A daily performance project by Nadia Vadori-Gauthier
CV
Nadia Vadori-Gauthier, Performer, choreographer, PhD (Esthetics, Université Paris-8)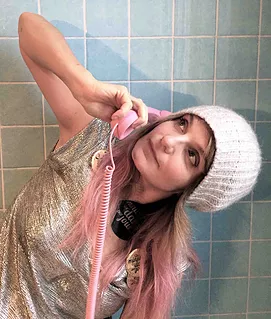 Trained in dance, theater, and visual art, specialist in movement practices (dance, instant composition, authentic movement, Body-Mind Centering, yoga), Nadia Vadori-Gauthier bases her artistic and theoretical research upon her somatic experience. After seven years as a choreographer (creating seven pieces), today she pursues the research work of Le Corps collectif, an artistic laboratory and performance group (www.lecorpscollectif.com), interrogating the borders between art and life, visible and invisible, movement and form.
Her current research subjects, based on the implementation of a theoretical-practical continuum, concern different thresholds of perception and representation in the creative process, with the goal of producing an art that maintains its connection with life and establishes new collective arrangements between artists, spectators, and environments. This process must involve, first of all, a renewal of scenographic practices and writing, drawing from fluid, open commonalities.
Committed to implementing an active and living poetry, she develops transversal and interdisciplinary hypotheses for research (visual and plastic arts/video/sonic poetry/dance/site-based performance/philosophy/poiesis/cognitive sciences) in order to propose alternatives to representation, attempting to contribute to renewing the dominant modes of visibility and corporeality and to conceive of new modalities of images in the performance fields, envisaging her artistic propositions not as artistic destinations but as esthetic/political/somatic vectors for connection to living.
In an essentially image-based world, she proposes to inhabit a body that has no image a priori; this liberty seems to her one of the keystones of profound esthetic mutations.
PhD in "Aesthetics, sciences and technology of Arts", Paris-8. Major: Fine Arts and Performing Arts
B.M.C® certified teacher and practitioner, School for Body-Mind Centering®
Certified Yoga Vinyasa teacher, Fédération française and Yoga alliance U.S., Studio G. Arnaud
B.F.A fine Arts, Major inter-related Arts. Concordia University, Mtl, Canada
B.T.S Visual Expression, École Supérieure Estienne, Paris
Degree École Supérieure Estienne, major: Fine Arts
Price Nouveau talent chorégraphie, S.A.C.D
Une Minute de danse par jour has been supported by